We live in an age where data and information are considered some of the most important resources in the market. There are practically thousands of businesses that are clamoring for information and data regarding their target audience. This means storing passwords, financial information, and critical personal information for many large corporations and businesses.
But many malicious entities want to use this sensitive personal information to their advantage. Hackers, malware, and other types of threats online can cause problems to these networks. Some companies and businesses have had to pay millions of dollars in damages from information being leaked. Not only will most companies have to retrieve personal information that has fallen into the wrong hands, but this could be a serious breach of the public's trust and could seriously tarnish the reputation of the business.
That said, it's becoming increasingly more important to start securing critical information about consumers through data protection software, proper cyber hygiene, file backup, and close monitoring. Fortunately, there are a variety of strategies that you can apply to maximize the security of your databases. Here's what you can do.
Backing Up Critical Data
First and most importantly, one of the best ways to ensure that your data is protected is by backing it up. Although this might seem like the most basic step, it's often overlooked by many IT experts. In reality, it's known for being one of the most effective ways of protecting data. There is a myriad of ways to back up important data in case it gets lost. Most would store files on hard drives and solid-state drives that are not connected online.
But in the past few years, many businesses are using cloud-based software when it comes to managing and storing data online. Not only does this mean that data can be instantly recovered, but you can take your data with you as you travel since it's online. On top of that, most cloud-based software is known for its state-of-the-art security. If you're looking for cloud-based software that's specifically tailored to your needs, you won't have to look far since there are professional business continuity software vendors that can help protect your data and ensure business continuity for years to come.
Unreadable Hard Drives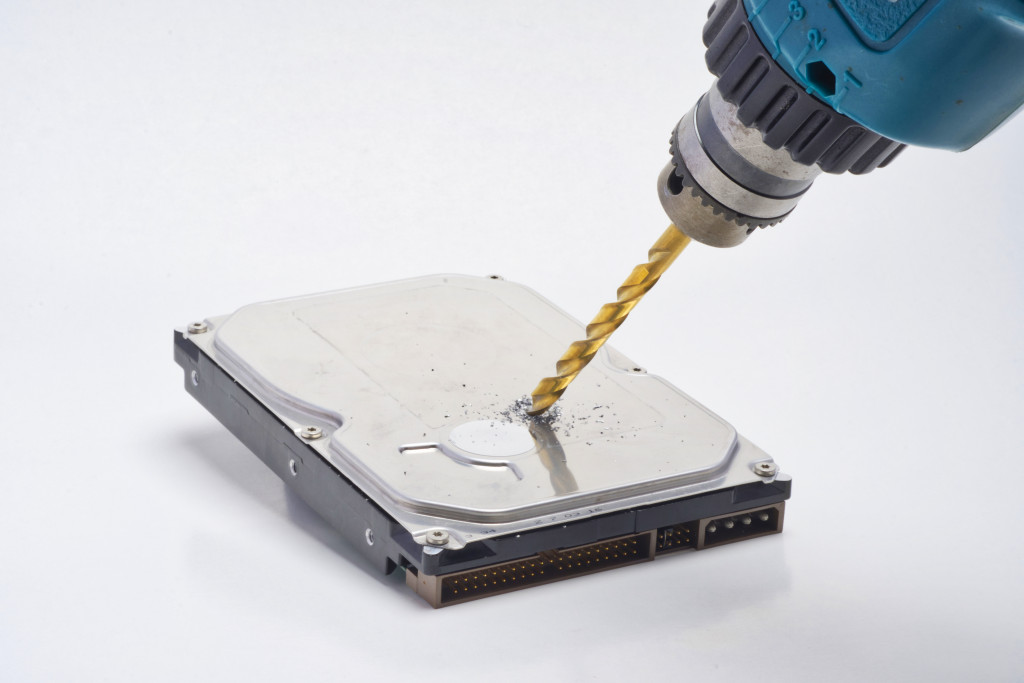 Although many large companies and corporations have the luxury of buying state-of-the-art new computers and devices for their workers, many small companies won't have the budget to buy new systems. Hence, they need to rely on old computer systems.
However, many of these old computer systems and devices are also a treasure trove of sensitive information. On top of that, certain models of old computers won't support new updates and firmware, which could make these systems vulnerable to unauthorized individuals and malware.
If you're planning on replacing these systems with newer ones, you might want to consider ensuring that the information does not fall into the hands of questionable individuals by making these drives unreadable. After you've backed up your files and data to newer systems, you can now proceed to sanitize these drives permanently by magnetically cleaning them out.
Keep Everything Up To Date
Last but not least, one of the most important ways to secure your data and information is by keeping everything in your system up to date. Whether it's software used for production, your antivirus systems, or your operating system, updating every single part of your database can help mitigate any future data breaches. After all, the best way of protecting your data is to prevent it outright.
Updates are especially important when it comes to operating systems. The last thing employees want is to get their work interrupted by an operating system update that might take hours. However, these operating systems are still necessary. They're there for a reason, and that's because they help mitigate critical security breaches through patches. Malware that has not yet been discovered can be detected through these updates.
If you're going to drag on these updates for months, there's a good chance that you're placing your computer and much of your network at risk of threats. When most of your computers at the workplace are interconnected through a network, everything should be updated for the best performance. Not only will upgrading the operating system optimize security, but this is also a great way to increase the general performance of the CPU.
There are many ways to ensure that sensitive information is kept safe and secure from hackers, malware, and even internal sabotage. In an age where crucial data and information from customers and clients are important, data should be kept with utmost privacy and security. If you're planning on ensuring that this data does not fall into the wrong hands, one can't be too careful in this situation.