One of the biggest challenges of being a landlord is dealing with difficult tenants. Sometimes, tenants can be challenging to work with, and it can be challenging to get them to comply with the rules and regulations of the property. In some cases, landlords may need legal action to ensure that their tenant follows the rules.
Tenants who do not comply with the rules can cause significant headaches for landlords and even lead to financial losses. Landlords who can effectively deal with difficult tenants will be better able to protect their property and investment. However, you can't be in multiple places at once. Thankfully, some digital technologies can help you out. Here are some of them.
Webcams
You can't be in multiple places at once, but webcams can help you keep an eye on your property. By placing a webcam in strategic locations around your rental property, you'll be able to check in on what's going on, even when you're not there. This can be especially helpful if you have a large property or live far away from your rental.
Webcams and security devices aren't meant just meant for your tenants. In some cases, your tenants aren't going to be the source of your problem. Property crime continues to increase in the United States, and more people feel unsafe than ever. Having these devices ready can make you feel more confident that your property is protected, even when you're not there. Your tenants will thank you for this as well.
Digital locks
If you're looking for a way to improve security at your rental property, digital locks may be the answer. Digital locks can be controlled remotely, so you'll always know who is coming and going. This can give you peace of mind, knowing that your property is secure, even when you're not there.
However, this is a relatively expensive investment. Digital locks don't come cheap, and some tenants might find this intrusive. If you're considering this option, be sure to talk it out with your current and future tenants.
Online Tenant Portal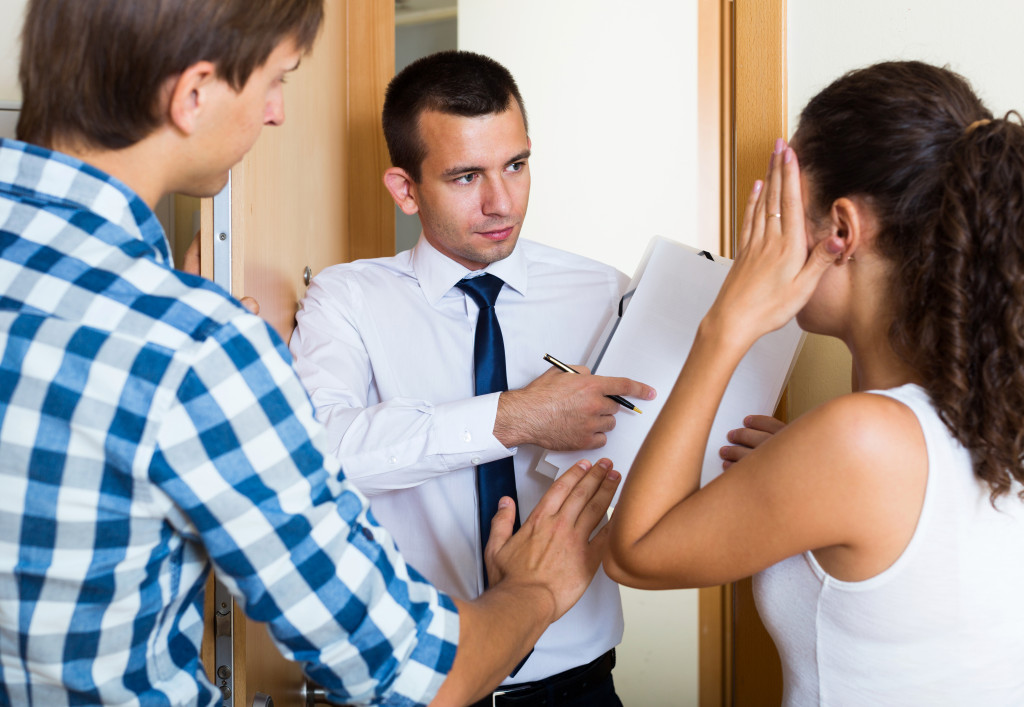 An online tenant portal can be a great way to stay organized and keep track of your tenants. With an online tenant portal, you'll be able to see when rent is due, track maintenance requests, and more. This can be a great way to stay on top of things and avoid any surprises.
This portal can also help you with your finances. By having all of your tenants' information in one place, you'll be able to generate reports and track payments.
An online tenant portal is a great way to stay organized, but it's not perfect. In some cases, tenants might not have access to the internet or may not feel comfortable using a portal, such as those who have reached an elderly age. However, most tenants should use an online tenant portal without any problems.
Online Maintenance Request System
Dealing with maintenance requests can be time-consuming, but an online maintenance request system can help make things a little easier. With an online maintenance request system, tenants will submit maintenance requests directly to you. This can be a great way to save time and to avoid having to chase down tenants for maintenance requests.
Usually, these come with online tenant portals, but if yours does not have, consider having this software with you.
Rent Collection Services
Collecting rent can be a hassle, but it's a necessary part of being a landlord. Thankfully, there are rent collection services that can help make the process a little bit easier. Rent collection services will help you collect rent from your tenants, and they'll also help you keep track of payments. This can be a great way to avoid any missed payments and to keep your finances in order.
Moreover, these services can also help you protect your properties and assets. Hiring a commercial bailiff service can help you monitor your assets and properties as a landlord. They can also help you take control of any legal problems you might have. They can be found on the internet and ready to serve you.
Virtual Reality Tech
Lastly, you're going to need something to market your property to people during the pandemic. Thankfully, there are virtual reality tech options that can help you out.
Virtual reality tech has been raking up investments during the past years, and for a good reason: these services will help you create a virtual tour of your property, so potential tenants can get a feel for the space. This can be a great way to get people interested in your property, even if they can't physically see it.
By using these digital technologies, you'll be better equipped to deal with difficult tenants. By staying organized and keeping track of your tenants, you'll be able to protect your property and your investment.