While early 2021 began with volatile market circumstances, unsure of whether bullish or bearish oversight would win over, we have experienced broad economic recovery for most of the year despite the ups and downs caused by economic uncertainty. And even though the boom has yet to bounce the market situation back into complete financial stability, businesses worldwide are making steady progress toward growth regardless of the constraints faced in today's new normal.
Furthermore, among the many benefactors of widespread market disruptions and emerging consumer demand, online business opportunities are becoming increasingly popular, with more and more entrepreneurs taking the chance to put their ideas into action. And to understand why this boom remains sustainable until now, we'll be going over the recurring trends that support the momentum, the difficulties associated with starting, and what hope lies ahead for the opportunistic individual.
Current Digital Trends Are Strongly Favorable
Many would agree that the future of online business has always existed. Given all the research, innovation, and development poured into the digital landscape, it's only natural for the online business world to become impactful. However, the one unprecedented factor supporting this sudden growth is that current digital trends are firmly favorable for online business opportunities. Here are some developments you can take advantage of in the digital space:
Working from Home and Hybrid Workplaces
Firstly, there's no denying that the work-from-home strategies employed at the start of 2020 were seen as a temporary measure to keep core operations running. Still, nobody expected this trend to be on the pace of outlasting the pandemic itself. At this rate, the rise in popularity of hybrid workplaces heavily favors online businesses that don't necessarily require a physical office to be operational and might even steer innovation toward new horizons.
Growing Preference for Convenience and Flexibility
In addition to more and more people choosing to work from home on their accord, the growing preference for convenience and flexibility from both a business and consumer perspective is increasingly prevalent. Sure, it may not directly influence the future of online business, but people's gradual evolution demands will shape what comes next. And even though it may not carry any impact of a sizeable magnitude right now, online businesses are in the best position to benefit when it does.
Bullish Crypto Momentum Boosts Integration
Lastly, we must remember that cryptocurrencies and blockchain technologies have taken center stage these past few months. And while many forecasters expected the boom in prices to have settled down and entered a bearish phase back to support levels, coins have shot back up, such as Bitcoin shocking the world and breaking past $66,000 valuation. Therefore, as cryptocurrencies continue to grow and the notion of integrating them as payment options into business become more accurate than ever before, online business is expected to grow in proportion.
But Don't Expect the Process to Be Easy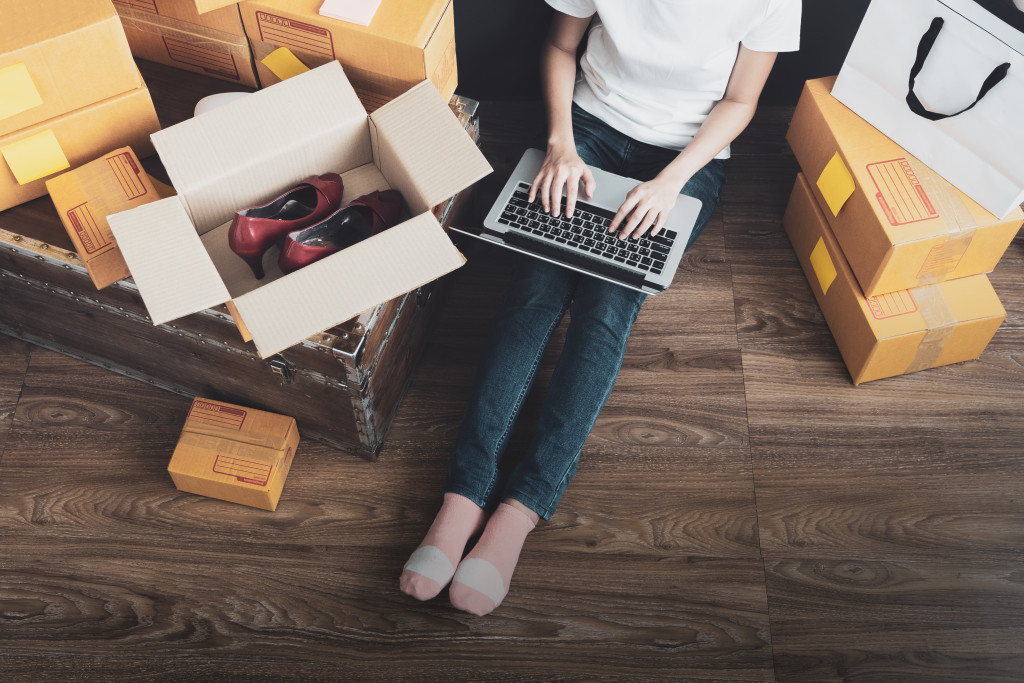 Of course, regardless of the online business opportunities available in today's new normal, the risks are still the same, so don't expect to launch a startup and become successful after a few short months. In fact, you might even find external threats and the stakes to be higher because you'll be going head to head with (1) the influx of new competitors operating in niche markets and (2) balancing overall customer experience to leverage against other established online brands. Here's a more detailed explanation of the two:
The influx of New Competition in Various Niche Markets
Unlike many years ago, wherein penetrating the online markets through dropshipping stores and young e-commerce websites were all the rage, you're not alone in this struggle to create a well-performing company. Like-minded entrepreneurs and business people are migrating just as fast and urgently onto the digital landscape to secure their share of niche markets and build an audience base. So be prepared to face resistance and work through challenges.
Balance Customer Experience, Service, and Product Quality
Apart from the threat of competition, we can't forget that the online business world is still young, and nobody fully grasps the perfect balance to customer experience, service, and product quality just yet. And while many think they have an understanding of what users demand from online brands, there's more to from the numbers than one would initially expect. For example, hardware and security online retailers like BannerSolutions.com invest in superior customer experience and efficiency of distribution to cement itself as a pioneer in the wholesale industry.
Overall, the confluence of growth trends and expected difficulties might be hard to understand at first. But if there's one certainty you can count on, it's the fact that the online business sector is bound to flourish. And while the odds might seem like they're stacked against you, it's not impossible to start small, quickly rise the ranks, and ride wave after wave of innovation and opportunity in front of you.